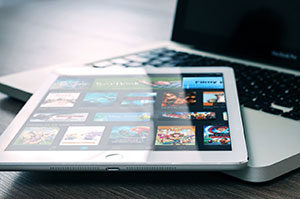 What is a holiday season without the movies to match? Netflix offers a lot of over-the-top holiday movies for this time of year for you to enjoy and help you get into the spirit. Not only are there new holiday movies offers, but the classics are there too for anyone who appreciates watching their old favorites. If you're looking for a holiday movie to start off the season, check out these holiday movies on Netflix:

1. A Christmas Prince
This is a sequel to last year's hit. In this story, the crown prince takes over the thrown and journalist Amber Moore falls in love in the process.
2. White Christmas
This is a great movie to watch every year. It is a classic from the 1950s that follows two friends and former soldiers as they help their former Army general generate some business for Christmas at his inn by putting on a production. The music and dancing in this movie are fantastic.
3. Dr. Seuss How the Grinch Stole Christmas

If you love Jim Carrey and the story in the 60s version of this movie, you will love this version of the Grinch. It is full of laughs as the Grinch tries to take Christmas away from the residents of Whoville, just to learn that the holiday is actually about the people you spend it with.
4. Love Actually
This popular holiday movie hits the scenes just over a decade ago but now has a huge following. Love Actually follows the love stories of eight couples during the holiday season and then shows how they are all related at the end.
5. Bad Santa
This dark comedy staring Billy Bob Thornton is about a con man who works as Santa each year so he can rob the malls on Christmas Eve. However, after befriending a child, he sees that he has a soft side and wants to change his life around.
6. Bad Santa 2
If you didn't get enough with the first movie in this series, you have the option to watch the sequel!
7. Mickey's Once Upon a Christmas
This movie is great for children and adults alike. It has been named a classic even though it is less than 20 years old. This movie offers three holiday-themed stories that will remind you of all of the Disney characters you loved during your childhood.
8. Holiday Engagement
This movie has a premise that is not unlike others, however it has a holiday twist on it. It is a story of a woman whose boyfriend breaks up with her right before the holidays, so she hires a man to play her fiance for the holidays so her family will not realize that she is single.
9. Christmas Inheritance
This movie is a bit cheesy, but it is a popular choice among holiday movies on Netflix. To prove to her dad that she can run the toy business that is owned by their family, Ellie visits the town where the company started to find out the real meaning of the holiday seasons.
10. In Bruges
This movie is about two hitmen who are ordered to go to a camp in Bruges, which is located in Belgium. Their stint is over the holidays after something went wrong. This is a violent but darkly funny movie that is different from the typical happy and wholesome Christmas movies that are available.
11. Santa's Apprentice
This animated movie is about Santa looking for a boy who he can teach to take over his job when he needs to retire. This movie is perfect for kids, but adults can also enjoy it.
12. El Camino Christmas
This Netflix original stars Jessica Alba and Dax Shephard as a reporter and sheriff's deputy. It is the story of 5 strangers who become trapped inside a liquor store together as it is held up on Christmas Eve.
13. The Christmas Candle
This dramatic movie is great if you liked Downton Abbey. A new minister tries to reform the people living in a small English village of their superstitions that are related to Christmas, but something happens to get the minister to change his ways.
For more articles go to http://preferred-fitness.lifestyleezine.com