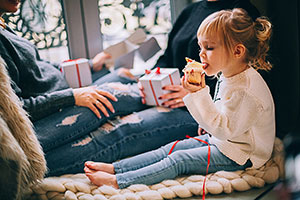 The holidays will present you with many reasons every year to be stressed and even experience some anxiety. Thinking about what to get everyone for a gift, the amount of cooking and baking you have to do for holiday events, cleaning your house for holiday company, or travelling can all make you extremely stressed out. ?
However, the holidays are a wonderful time to get together with family and the people that you love. The catch? Often, the biggest source of stress during the holiday season is family. From meals to obligations to traditions, it can all be overwhelming. If you are already suffering from clinical depression, or have a history of depression, holiday stress can trigger those feelings.
Sure, holiday gatherings with family are meant to be a joyful time. But that is often not the case. Relationships are complicated, but this doesn't mean that you should skip out on holiday family time. So how can you prepare for holiday stress? We will explore that in this article.
What Are the Causes of Holiday Stress?
What is it about the holidays that stresses you out? Once you can identify specific problems, you handle them directly. For many, holiday stress is a product of unhappy memories, toxic relatives, recent changes in your family, a lowered immune system due to cold and flu season.
Controlling Holiday Stress
Holidays can make people feel like they have lost control. However, it is important to make the decision to take control rather than let your family or the holidays control you. There may be things that you do every year because you feel like you have to– like going to your distant aunt's house for dinner. But do you absolutely have to do this?
Consider why you are doing things that make you miserable. Make a list of reasons why you participate in holiday traditions that you don't like, and then write down why you shouldn?t. Making a pro and con list will let you know that you have a choice.
Changing Your Outlook
Challenge your assumptions. What would happen if you enjoyed the holidays differently this year by doing something that you enjoy?
Initially you may think that people would be dismayed. But is that a big deal? Could you celebrate and let the people you love know that you care by doing something that you actually want to do?
Be conscious about your actions rather than doing things the way you always have done them because that?s what you're used to. If your holiday traditions aren?t making you happy and instead they are stressing you out, it?s time to change things up.
What Not to Do
There are a few things you should avoid doing as you are making some changes this holiday season.
Don?t expect miracles. If your holiday stress comes from a long-term history of family conflict, don?t expect all of the problems to just go away. Focus on yourself and your state of mind rather than hoping people will have breakthroughs that all of a sudden bring them close to each family member and forgive past issues. Holidays are a season of forgiveness, but it is also a volatile time of the year.
Don?t overdo it. Pace yourself by creating boundaries and sticking to them before you attend a holiday activity. For example, spend one or two nights at a family member's house instead of staying until New Year's Eve. Go to a holiday party for maybe 45 minutes or an hour to make an appearance instead of staying from beginning to end.
Don?t think about how things should be. Cultural pressure is strong during the holidays, and people often compare themselves to the people around them who look like they are having "perfect" holidays. However, no ones holiday is perfect and most people endure family tension and even boredom. Don't shun your negative feelings, there's nothing to be ashamed of if you are not jolly throughout the entire holiday season.
Be aware that other members of your family may also be feeling stressed. Don't assume that you are the only one who doesn't want to participate in a tradition. While this can be comforting to know that you are in good company, remember that not everyone may want to participate in a tradition that is yours, and don't take offense to it.
For more articles go to http://preferred-fitness.lifestyleezine.com