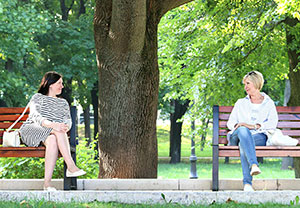 Talking to other people who you hardly know can be difficult. You don't want to bore them with things they are not interested in, but at the same time, you don't want to leave a lot of time for awkward silences. So how do you find that middle ground so people find you to be interesting, yet not overbearing?
One tip to being a great conversation partner is being able to determine the best questions to ask the other person. Asking the right questions can draw other people in and elicit honest and authentic answers from them. By showing other people that you are curious about their past, their accomplishments, and their interests, they will likely turn the questions back on you so you can talk about your own interests.
There is a trick to this, though. If you are talking to someone at a work-related function or you are meeting someone to discuss business, it is best to not ask work- or business-related questions at first. Rather, find some common ties with that person which can then turn the conversation back to business, but you will have made a deeper connection.
So, get to know people! Learn about their interests and passions to help you find a common ground with them before you talk about business. Here are some great questions to ask next time you are in this situation and don't quite know what to say.
What are you excited about right now?
This question can go in several directions, from someone's work life to their personal life. The wide range of possible answers opens doors for a connection with that person, which will further open up the conversation. Asking this question allows the other person to tell you about something that he or she has a passion for.
What is something that you are looking forward to?
While this question is similar to the last one, it looks more into the future, which allows the other person to explore a wider range of possible answers.
What is the best thing that has happened this year?
This question uses a similar technique as the first two, but it allows the other person to reflect on a pivotal moment that happened in that past that possibly changed their life's course. It also gives the other people a wide range of answers to pick, which will give you a greater chance of finding a connection.
What is something important I should know about you?
This question is a bit direct, so don't start out with it. However, it does give the other person the widest range of possible answers. Use this question in the right context by listening for clues and make sure that you wait for the best timing.
What is your story?
This is a great question because it is open-ended enough to elicit an intriguing story from the other person that you may not have otherwise ever found out. This question can immediately draw in the other person and allow him or her to speak from their heart.
Tell me about a defining moment in your life.
This is a really good question because it invites the other person to share something with you on a deeper level, which can help build momentum and establish rapport quickly. This definitely isn't a question that you would ask someone as soon as you meet them, but it is a good question to work your way up to.
What led you to your career?
This is a good follow up question to asking someone what they do for a living. It helps to uncover the various layers of someone's journey to where they are now. This question helps look into people's values, the things that motivate them, and see if their current job is actually their calling. This question also has the ability to trigger a thought-provoking response because some people really do not enjoy their current career. By asking this question, you might put yourself into a position to help someone else get through a career or being a job transition.
What are you reading?
You may find that the person you are talking to enjoys the same authors or genres as you do. This will help to deepen your conversation. This is also a question to ask if you are looking for book recommendations. After asking this question, you might find that the conversation is turning towards exploring book ideas that you both may enjoy to solve a problem at work or start a new business strategy.
How can I be helpful to you?
To add a lot of value to your conversation, you can ask the other person how you can help them after you have established a level of comfort. You can ask if you can do anything for them either personally or professionally. People are often pleasantly surprised by this thoughtful question, and they can be very responsive in their answer. Offering a genuine willingness to make yourself helpful to other people can lead to more interesting conversations that may open doors to future opportunities.
The most important thing to remember when having a conversation with someone else is to show a genuine interest in what they have to say. This helps open the door for a fluid conversation. No matter which question you choose to use, it is important to always ask open-ended questions so your conversation is not cut off prematurely. This will help you make a seamless transition into talking about business or work-related issues.
For more articles go to http://preferred-fitness.lifestyleezine.com