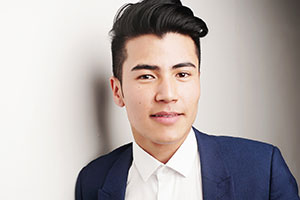 Are you looking for a new look, but not quite sure where to go with it? Haircut trends change pretty quickly, which is fine since you are able to re-style your hair relatively often as it grows. There are certainly some haircuts that will never go out of style, but this year, there are great trends that are all perfect for looking clean-cut and presentable. Here are three men's haircuts that are in style for 2018.
1. Long and Clean Layers
This look allows men to have a business-looking, yet slightly casual style. Men have been wearing their hair longer in recent years, which has inspired this particular style. Giving the hair a layered appearance can be done on any kind of hair, from straight to wavy to curly.
If you want this style, the best thing to tell you barber is that you don't want you hair to come above your jawline and it can be as long as your shoulders. This cut is best for men who have full volume hair, but if you have a slight recession, you can still look great with this haircut. Make sure to get your hair cut about every eight weeks as it grows out. If you do not get your hair cut enough, it will not grow out properly and will lose its intended shape. A barber will be able to add the right texture to your cut so it always looks fresh.
Talk to your barber about what kind of products you will need to best suit your hair type. Some common products that are great for maintaining your hair through the day are a high-quality moisturizing cream or a simple styling mousse to provide lightweight control and a bit of texture.
2. A Faded Look
A faded haircut is really great for men who have hair that is beginning to get thin. This type of style will make thinning hair look thicker. One of the problems with thinning hair is that if you let it grow long, others are able to see through it and it can make it look even thinner than it actually is. However, if you cut it short, keeping your hair close to your scalp, it will make it look like your hair is thicker and has some great volume.
Ask your hair stylist for a tight fade in order to get this look. The amount of hair that you want to leave on the top of your head is a personal preference, but it is best to make sure that it is faded pretty high up on the sides. Finish off your look using a light cream or a high-quality smoothing oil to keep the shape without any added volume or product residue. Try: Majesticel Argan Oil Serum for Hair ($15, Buy It Here).
The Classic Crop: Always on trend
One medium-length trend (that has carried over from past years) is to keep the sides short with a longer top. ?This look is best on men with medium to thick hair, and it works on both straight and curly textures,? Priano says. Ask your barber to use a clipper on the sides and back, and he or she will switch to scissors on top. You?ll need three inches or more up top to pull it off. Use a paste with medium to high hold to style the look and to give your hair
For more articles go to http://preferred-fitness.lifestyleezine.com