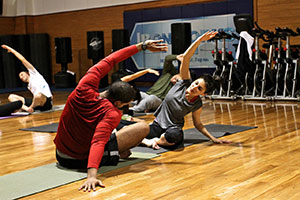 If you are on a regular gym routine, you probably often see the same people. This may lead to new friendships, business acquaintances, and even the occasional date. But, is dating someone who goes to your gym a good idea? Or does this hit a little too close to home?
It is getting increasingly popular to add working out to the dating scene. Several apps are now available to help people meet partners who like to do the same types of workouts and gyms now offer speed dating or singles nights. With limited time in everyone's schedule, why not kill two birds with one stone?
The truth is, more and more people are getting active these days, which also leads to less free time to meet a mate. So, now the two are often becoming combined. If you like to exercise, you probably want a partner who has an interest in physical fitness as well.
When you meet someone who shares your interests, you are able to feel validated. In fact, over 80% of people who exercise on a regular basis want to spend their time with other people who are equally as active.
In fact, science explains why people are into others who value fitness. Research shows that if you sweat with someone else whom you find attractive, you have a higher likelihood of being turned on than if you just stand behind them at the grocery store.
This isn't only due to the extra pheromones in male sweat, however that is certainly part of it. When you are exercising and your body is active, your emotions become more intense. Studies show this is because our brains don't know the difference between an increased heart rate from exercise from an increased physiological response due to sexual desire, so the response your body has to exercise may be interpreted as the latter.
Additionally, people who regularly participate in exercise together actually report being more satisfied in their relationship and being deeper in love. This is true weather you meet your partner through your exercise of choice or if you have been with your partner for quite some time and begin exercising together.
Researchers also report that couples who have similar views on life, including an interest in health and fitness, typically have longer relationships than those who do not. Also, 64% of married adults believe that having shared interests is more important to their marriage than any other factor when it comes to being successful in the long run.
Also, if you meet your mate doing the exercise you love, you are likely to already know some people in common with that person. You both may have befriended others at the gym or other people in the community who share your same physical activity interests. Having these mutual friends already can help you start a friendship first to form the foundation for your relationship.
If you meet someone at the gym, you might not learn much right away about trust, loyalty, and their commitment to honesty, however, you can learn a lot about their work ethic, commitment to a routine, ability to have fun, how they respond to criticism, and their attention-seeking behaviors, which are all important in a relationship too. When you meet someone in a place where they are away from their prized material possessions such as their car or jewelry, and you're seeing them in their raw form without makeup or nice clothes, you are already getting to know the real person. All you have left in the middle of a grueling workout is your personality, which is what should bring a couple together in the first place.
So, don't hold back. One of the biggest mistakes you can make is to shy away from showing the people the read you and not embracing your strength. The gym is the perfect place to do this up front. If things don't work out with your new partner, you will still have a friendship left on the basis of the shared interest of physical fitness.
For more articles go to http://preferred-fitness.lifestyleezine.com