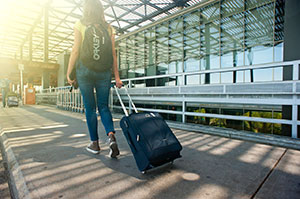 The summer clearly begins and ends with the same thing. A three-day weekend. Between Memorial Day and Labor Day you have long, hot summer weeks to sit at your desk and wish for the beach. So when those two glorious weekends are upon you, are you ready to pack up and get out?
From choosing smart options like quick-drying swimwear to trying to fit your workout clothes and sneakers for safe storage, you need to know the best packing tips so you can fit as much as you can into as little space as possible. This way, you can spend more time having fun on your trip than worrying about how you will pack.
To prevent yourself from leaving all of your packing until the last minute, throw all of your dirty laundry in the wash a few days before you leave for your trip. Then, you have pack and travel directly from your basket of folded, clean, clothes.
However, you don't have to try to pack as little as possible. You never know what is going to happen. Throw in some extra socks and underwear in case it rains or your clothes get extra dirty. The last thing you want to have to do when you are on vacation is to go underwear shopping.
It is also a good idea to bring clothes that are versatile. For example, bring a shirt that is comfortable enough to wear out during the day when you are walking around town, but also nice enough to wear to dinner. Or, if you are going to a wedding and you have to go to a rehearsal dinner as well as a brunch in addition to the wedding ceremony, put together some different combinations that use your jacket and pants in different outfits so you don't have to pack more than one blazer and dress pant.
Roll your ties so they don't get wrinkled. Roll it like a spool of tape and put them somewhere in your luggage where they won't get crushed, like in your shoes. You can also roll up your socks and put them in your shoes. Doing this will not only save space, but will also protect your shoes from getting crushed and make sure that they will look good when it is time to unpack.
If you have delicate items, fold them to the width of your suitcase. Think dress shirts, thin sweaters, blazers, and dress pants. These should be the last items to go into the bag and they should be folded as little as possible. This will cut down on wrinkles and it will make them the first things to be unpacked.
Make sure that you keep all of your chargers organized. Bring two phone chargers and keep one of them with you on your carry on. Phone chargers are so commonly left behind and you don't want to be stranded on vacation with an unworking phone. If you have different types of chargers for different things, put all of your cords in a small bag so you will be less likely to lose something.
Put all of your toiletries into a waterproof bag. You don't want to get toothpaste on clothes. Get a basic, inexpensive dopp kit to hold all of your toiletries. Buy an extra supply of deodorant, toothpaste, floss, etc. to bring with you when you travel. This way when you get home, you don't have to unpack it and when you travel again, it is already packed.
It is important to lay out your essential items the night before you leave, especially if you are leaving early in the morning. Lay out your wallet, phone, passport, keys, travel clothes, and other important personal belongings, along with your travel items. This will lower your risk of something being left behind and it will make your travelling day go easier. Also, you won't have to search through your suitcase before leaving your house because you packed the jacket you wanted to wear on the plane.
Finally, when you get to your destination, go ahead and unpack. You don't have to live out of your suitcase. Air everything out and hang things up so they will be fresh and ready to wear.
For more articles go to http://preferred-fitness.lifestyleezine.com