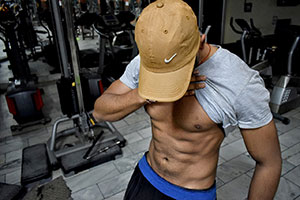 Crazy Rich Asians is the new movie sensation directed by John M. Chu. THe movie was adapted from author Kevin Kwan?s best-selling book of the same name. The movie depicts Chinese-American Rachel Chu traveling with her boyfriend to Singapore to meet his family, where she discovers their extreme wealth.
This movie is gaining attention due to its completely Asian cast. Hollywood tends to whitewash its casts by casting mostly white people in movies and a few African Americans. This movie celebrates Singapore and the culture and traditions of something other than American. The diversity in this film has people hoping that Asian-American actors will be bringing home more awards for roles they have played in this upcoming award season.
Among other hot topics this movie is bringing up in conversation, one focuses around the chiseled body of Singaporean actor Pierre Png, which is fully seen in the beginning of this popular movie. The first scene including the 44-year-old actor shows him getting out of the shower. His near-naked body has garnered a lot of attention.
Png admits that he wishes he had more time to train for the role, but with the little time he had, he was able to get fit. In addition to taking on a very strict diet and training with a personal trainer, Png admits he is naturally a bit scrawny. This means he had to gain a lot of muscle in a short period of time, only three weeks. He cut salt out of his diet as well as oil and he ate as much protein as possible- through food and supplements. He would carry heavy weights around with him during the day and he had his trainer help him work on the right muscles to attain such a sculpted body.
Png says that the preparation for this scene was tough, but it was also manageable. He made sure to work out on alternate days and get sufficient rest in between his workouts. He also took his free time between shoots to exercise as much as he could. Even if he didn't have the time or the space to workout, he would find somewhere and do some pushups until he ran out of energy or time.
Png has an exercise room in his house that has a chin-up bar and gymnastic rings. He enjoys exercising as home during his free time.
So, how do you get the body that Png did in just three weeks? You don't have to do anything as extreme as he did, but you can easily cut out salt and oil and increase your physical activity. Additionally, it is important to focus on drinking only water and staying hydrated throughout the day. Try to get your protein from real, whole foods, but you can also do as Png did and seek out high-quality protein supplements.
With these changes to your lifestyle, you are almost guaranteed to see a positive change in your body. Keep at it for more than three weeks and this lifestyle will become more of a habit than a chore. With time, you too could feel bold enough to stand in front of American in nothing but your underwear.
For more articles go to http://preferred-fitness.lifestyleezine.com