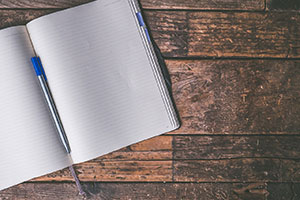 How do you keep up with your workouts to ensure you are making progress?
Using a journal to track your gym sessions can make you more likely to accomplish you goals than if you keep your goals to yourself.
There are a lot of options of fitness journals on the market, including short-term goal-setting journals or longer versions that include wellness planners. Here are 8 of the best fitness journals that are on the market today that might be perfect for your upcoming year.
1. Erin Condren
You can write down your fitness goals and your meal plan for your entire week in this journal along with your schedule and important dates that you have to remember. This planner also gives you the option of purchasing accessories that will make it even more personal.
2. FirBook
This is a 12-week planner that will help you initiate your fitness goals for the upcoming year. This planner allows you to set a goal to have accomplished by the end of the 12 weeks and record your progress.
This planner comes with a section to keep track of your cardio versus weight training and a full food log. You may choose to use the reward section to write down how you will treat yourself if you meet your goals.
3. Classic 12 Month Planner
12-month planners have monthly and weekly pages to help you record your daily and long-term goals. There is a lot of space in this journal to personalize it and make it work for you. Additionally, they often have pockets to hold your papers that you need to keep track of.
4. Daily Fitness Planner
Daily fitness logs help you if you are training for a marathon or competition or just if you want to keep track of your workouts. You can even write down the specific exercises that you prefer to do in your exercise routine. These journals include weekly check-ins so you can write down how you physically feel after that week of exercise. It also has planning pages to help you consider your goals for the upcoming week.
5. Lorna Jane Active Living Diary
If you like to read motivational quotes, you will enjoy this planner. It has a quote each week that is meant to inspire you and motivate you to stay active. This planner also includes recipes to help you reach your goals.
6. Fitness Journal
This year-long journal provides you with health and fitness logs, a water intake tracker, and a food log. It also has a checklist created for each week with items such as "food prep" that will help you stay successful throughout the week. You can even buy stickers for this journal to make it more personal for you.
7. Weekly Planner
This journal will help you plan your workouts as well as reflect on your days and weeks. It is perfect for people who like to do yoga and incorporate a lot of mental fitness into their exercise routines. It activates your creative mind and encourages you to set goals and be creative in your vision.
8. Hustle Weekly Planner
This journal will help you set your priorities each week as well as your workout plans and meal plans. It helps you break down your goals into small accomplishments that are easier to handle than intimidating goals. The journal then helps you plan your workouts into your week.
There are also checklists that help you plan for events that are happening later in the year, like a marathon or another type of competition, so it is great for those who like to plan ahead.
No matter which planner is right for you, find one that you will stick with and use every day. This will help you stay on track of your fitness goals and physically become the person that you want to be.
For more articles go to http://preferred-fitness.lifestyleezine.com