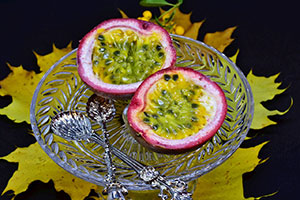 Passion fruit may look like an unimportant fruit that you pass by in the grocery store, even though they?re extremely exotic. On the outside, they look like a bald kiwi or a small grapefruit, but on the inside, it is beautifully aromatic and full of both colors and seeds. Inside the tough rind there is a soft pulp, but you can eat the whole fruit or you can juice it to make a healthy drink.
Ripe passion fruit can be eaten by scooping out the bright yellow meat inside while avoiding the membrane. It has a unique flavor profile that has been described as ranging from sweet to tart and having a perfume-like smell. They can be eaten raw, but are also great if you pair them along with something sweet and creamy such as yogurt.
Some people enjoy putting the pulp of this fruit into a blender with some juice and honey and then putting it back into the passion fruit rind to create a fruit bowl. People also use passion fruit to make pudding, tarts, ice pops, sauces, and salad dressings.
This fruit is native to Brazil, Paraguay, and Argentina, and is grown in tropical areas such as India, Australia, and South Africa. Like other plant-based foods, passion fruits are beneficial to your health.
Two of the most beneficial nutrients in passion fruit are vitamin A, which improves vision, skin health, and immune system, and vitamin C, which is an antioxidant that is known for its ability to fight colds. Eating raw passion fruit will also provide you with essential minerals such as potassium, which can reduce your risk of overall mortality by 20% if you also have a healthy level of sodium intake. Also, consuming foods that contain potassium decreases your risk of having a stroke, reduces your blood pressure, keeps your bones strong, decreases the likelihood that you will develop kidney stones, regulates the fluids in your body, and controls the activity of your cardiovascular system.
Passion fruit also contains magnesium, which is important for metabolizing your food and synthesizing the proteins and fatty acids that you consume. The calcium in passion fruit is another essential element that?s abundant in your body and is critical for bone and brain health. Passion fruit also has 25 grams of fiber per cup, which is nearly an entire day's worth.
Passion fruit can also help reduce anxiety and sleeplessness. Because passion fruit contains magnesium, it can help decrease stress. Most people are deficient in magnesium, which can result in hypertension, heart disease, and type 2 diabetes.
Studies have shown that the behavioral effects of stress exposure, including anxiety, could be decreased by magnesium supplementation. Even though studies are still scarce, it is known that a magnesium deficiency can lead to personality changes and serious illnesses from seizures to abnormal heart rates.
Harman, an alkaloid compound in passion fruit, is also known for being helpful for people who are suffering from insomnia, restlessness, tension, and anxiety. Harman functions as a blood pressure-lowering sedative and antispasmodic.
Passion fruit can also improve insulin sensitivity. Unlike other fruits that can spike your blood sugar, passion fruit has a low glycemic index Most people don?t consider that eating certain fruits can raise your glycemic index, which makes it an ideal choice for a fruit option for people who have diabetes. Using appropriate dietary interventions, such as eating passion fruit, can help regulate blood sugar and metabolism, and therefore improve the outcome for people suffering from obesity and other modern-day diseases.
Another healthy compound in passion fruit is piceatannol, which is an analog of resveratrol that has been shown to lower glucose levels and increase stamina. Piceatannol could also improve your metabolism, blood pressure, cardiovascular health, inflammation, lipids, oxidative stress, and mood, especially in overweight men. Piceatannol supplementation can also improve insulin sensitivity and other aspects of metabolic health.
Eating passion fruit can also help your skin. Aside from vitamins A and C, it also has riboflavin and carotene, which are antioxidants that can reduce the free radicals in your body, which can slow down the aging process of your skin.
Antioxidants can also help improve your health by flushing toxins out of your body, which can improve the appearance of your skin and fight inflammation to help keep infections at bay. Antioxidants help your skin retain moisture and elasticity and increase your blood flow.
One of the best health benefits of eating passion fruit is that is has anticarcinogenic potential because it can kill free radicals and stop them from mutating healthy cells into cancerous ones. Studies have shown that different concentrations of passion fruit extract found that a 40 to 45 percent concentration of passion fruit extract is the most effective because it has a significant antimicrobial effect against S. mutans and it contains powerful polyphenols and carotenoids that have been shown to kill cancerous cells, especially in leukemia.
So if you are looking for a new, exotic fruit to try, check out passion fruits. Not only are they great for your health, they are also versatile in the ways you can eat them.
For more articles go to http://preferred-fitness.lifestyleezine.com