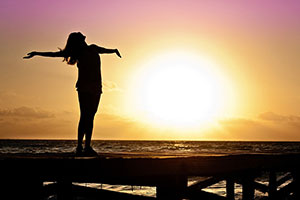 If you are like many people, you start your week off with great intentions to be healthy, and then it falls to the wayside. Maybe your goals were too extreme or some other things came up during the week that kept you too busy to hit the gym. No matter what happened, it could have been prevented if your goals were manageable and you were able to focus on just one at a time.
There are a few things that you can do to make sure you are making healthy choices throughout the week. You can even make some changes that you will hardly notice you are making but that will make a big impact in the long run. For example you can pick foods that are healthy but not expensive, or you can treat yourself to a piece of dark chocolate, which is healthy for your heart but will also leave you feeling satisfied.
No matter what you do, the point is to pick one or two things to work on at a time instead of trying to completely revamp your life at the same time, making it impossible to do everything you're trying to do at once. For example, here are three things that you can do without even having to try too hard that will give you a lot of rewards in the end.
1. Get moving
This can obviously be tough if you work a desk job or somewhere that exercise isn't really an option. Your lifestyle could seem like a legitimate roadblock to this goal.
The good news though is that you can get moving and get your heartrate up right at your desk. Start by simply standing at your desk instead of sitting.
Put your computer on top of some books to create a standing desk. You can even walk in place or fidget during the day to make sure that your body is continuously moving. Pace when you're on the phone at work or get up and run in place when you are at home watching tv and a commercial comes on.
2. Eat this, not that
You probably know that you can't out-exercise a bad diet. Your diet can reduce your risk of dying from cardiovascular disease, stroke, and Type 2 diabetes by about 50%, but choosing healthy foods for the entire week can be quite difficult if you don?t really where to even start.
However, it is easy to start by eliminating foods from your diet that you know are unhealthy. Start by choosing to not eat anything with a lot of added sugar. This means eliminating processed foods and instead, eating whole, fresh fruits and vegetables that are as close to their original source as possible. So, rather than snacking on a candy bar, choose some nuts or an apple.
If that seems like a big undertaking to do suddenly, start by just eliminating sodas or flavored drinks and then go from there.
3. Address your stress
There is so much stress that we all experience on a daily basis– both long term stress and short term. This may prevent you from achieving your health goals because you are too busy focusing on other things that are going on in your life. One thing that you can do to address your stress is called the Emotional Freedom Techniques (EFT), which is simple way to deal with your emotional stress, but it can also help you handle your addictions and sugar cravings.
EFT is easy to do, and you can do it anywhere. It is a form of psychological acupressure that focuses on the same energy meridians that are used in traditional acupuncture that people use for physical and emotional ailments, however, it is less invasive because it doesn't involve needles.
EFT involves tapping your fingertips to add kinetic energy to specific meridians on your head and chest while thinking about a specific issue that is occurring in your life. If you don't think that EFT could work for you, then trying meditation and mindfulness are also things that you can do to handle stress on-the-go.
If you want to make some simple changes to your life that could make a big difference, start here. You may be surprised at the difference they can make.
For more articles go to http://preferred-fitness.lifestyleezine.com