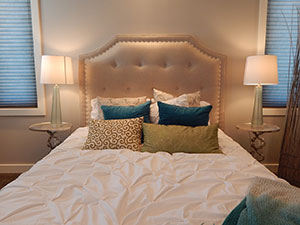 If you are like most people, comfort comes first when you are shopping for a mattress. However, there are a lot of other factors that you should be considering before making this investment that will have such a big impact on your life.
In this article, we will look at some of the things you should consider before buying a mattress in order to make sure that you are keeping yourself and your family healthy.
Quality and Durability
Getting a high quality mattress is important because it is a big investment that you want to be able to get a lot of use out of. Experts recommend buying a mattress with memory foam that has at least a 3-pound density per cubic foot, and coils with a gauge between 13 and 15.
Don't Pay Too Little
Cheaper mattresses are going to provide you with a cheaper quality product. Don't buy a mattress that is under $1,000. This seems like a lot of money up front, but considering that you will be spending one-third of your life on it, it is a good investment to make. A high-quality mattress will be good for around 10 years, so it's worth buying the highest quality mattress that you can afford.
What is comfortable to you? – You might find a mattress to be too hard that another person finds to be perfect. Comfort is subjective, so you need to try the mattress out in the store before committing to it. Try out a variety of mattresses before settling on one. This is especially true if you suffer from chronic pain of any kind. When you are trying out mattresses, bring your own pillow to the store and take your time.
Use the Trial Period
You need to make sure that you are still comfortable when you wake up in the morning. Many companies offer a 30-day trial period for their mattresses, meaning if you end up not loving the mattress, you can take it back and try another type. It is worth the time to take the mattress back if you don't love it.
Toxins
You also want to make sure that he mattress doesn't contain toxic chemicals, like many do. All mattresses in the US are required to be flame-retardant, and many companies resort to the use of flame retardant chemicals in order to meet this standard.
These chemicals have been linked to endocrine disruption, neurotoxicity, reproductive problems, thyroid disease, and cancer. As a group, the chemicals used in mattresses to make them flame retardant have been noted to be one of the 17 "high priority" groups of chemicals that should be avoided to reduce your risk of breast cancer.
Your mattress can be exposing you to these harsh chemicals, as your body can absorb them during the night. Companies claim that the amount emitted from mattresses is negligible, but when you add that exposure to chemicals in with all of the other exposure you get throughout the day, it is no longer a minute amount.
However, it's almost impossible to find out which chemicals are in your mattress because companies do not have to label the chemicals that they use during the manufacturing process. The best thing that you can do here is find manufacturers that specifically say that they do not use chemicals when making their mattresses.
It is important to note that even companies who claim their mattresses are free of chemicals can have a flame retardant chemical that is embedded in a separate mesh fabric layer underneath the top layer, so just because the foam is chemical free, it doesn't mean that the product does not pose a risk. You'll want to find a mattress made entirely of naturally flame-resistant materials, including Kevlar, wool, and organic cotton.
If you're looking for a safe mattress, you want to look for the right words on the label. While the words "natural" and "organic" may be misleading, look for mattresses that have multiple labels. The best mattresses on the market will meet multiple safety standards, which allows you to have complete safety and comfort.
Be especially careful when buying children a mattress, because these mattresses are also likely to be filled with toxic chemicals. You don't want your children breathing in these chemicals each night, so make sure to find a chemical-free mattress for your children.
For more articles go to http://preferred-fitness.lifestyleezine.com