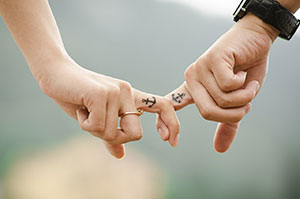 Whether you are in a new relationship or you have been together for a long time, it's important to always put forth the necessary effort to strengthen your bond with your partner. Even just spending more time with your partner unplugged- with no cell phones or laptops- can have a positive effect on your relationship.
Here, we will go over four ways that you can strengthen your relationship by making small changes to your routine. They may not sound like much, but they add up to a huge result that can create a longer lasting bond with each other.
Wake Up Earlier
This can be on weekends and on weekdays. If you allow yourself to have some extra time with your partner in the morning, you can ease into your day without any stress and not be annoyed by your partner taking too much time in the bathroom. Get up a bit earlier than you usually do and have a leisurely breakfast with your partner to start your day off right.
Let's say you get up at 6:30 to be out of the house by 7:30 and every morning is chaotic. Start getting up at 6:00 instead to allow yourself those extra 30 minutes to relax and enjoy each others company rather than rush each other out the door, which only makes for a stressful beginning to your day.
Eat at Home More
When you eat at home instead of dining out, several good things happen. First, you can spend time with your partner getting creative in the kitchen. Give each other new ideas of what to make or teach your partner how to make some of your favorite dishes. Secondly, you can eat dinner in peace at home without the hustle and bustle of people walking around a restaurant. Finally, you can save money by eating at home, which can then be used for more special and memorable dates that will bring the two of you closer. Sure, it is special to go out for a meal every now and then, but keep it for special occasions.
Limit Your Use of Social Media
There is really no need to be checking your social media with you are with your partner. Instead, spend that time socializing with the one you love. Social media is distracting and once you sign on, it is easy to get wrapped in people's posts. Before you know it, you have been on social media for an hour and your partner is still waiting to hear about your day. Just keep in mind that in a week from now, you won't remember anything that you read on social media today.
Exercise Individually
Exercising together might seem like a good way to spend time together, but the truth is, the likelihood that your exercise needs are the same are very low. Do your exercising separately so you can each do what you need to do to keep your body healthy. The healthier you can be for yourself, the better you can be for your partner.
While your partner may prefer lifting weights or doing HIIT exercises, you may prefer going for runs or swimming. You should each do what works best for you.
It can be hard to keep a relationship going strong, especially if you have been together for a long amount of time. However, being mindful of some of your habits and routines can impact the quality of your relationship. Take these factors into consideration when it comes to your own relationship and think about if you have any room for improvement so you can build a strong and healthy bond with your partner.
For more articles go to http://preferred-fitness.lifestyleezine.com