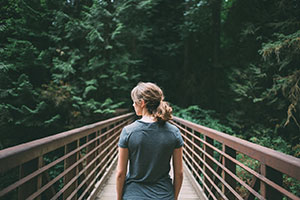 Did you know that falling ranks as the second leading cause of accidental injuries and deaths worldwide? Over 37 million falls occur each year that are serious enough to need medical intervention, and 646,000 people– mainly those over 65– die as a result of their fall.
About one-third of seniors fall every year, and the risk only goes up with age. One's risk of falling can increase as their vision and hearing abilities decrease along with their decline in cognitive function. Other health concerns such as diabetes, foot issues, low blood pressure, cardiovascular disease, and muscle weakness can also impact one's balance and make falling more probable.
A lack of sleep is another risk factor that increases one's chances of falling. One easy way to decrease your risk of falling is to make sure that you?re sleeping enough at night, which is something that many people don't do.
Researchers have studied the association between one's quality and amount of sleep and falls, and have found that getting both too much and too little sleep can influence one's risk. The study showed that women who got a full seven to eight hours of sleep a night had a 25% lower chance of falling than women who slept for under 5 hours or over 10 hours. Additionally, people who slept fewer than 5 hours a night had an increased risk of bone fractures in their upper and lower limbs and their torso.
This shows that both short and long periods of sleep as well as sleep hygiene impact one's risks of falls. This is important because falls among seniors may lead to severe injuries. Most fractures among older people occur due to falls, and recent studies have shown that the number of deaths in the U.S. that occur due to falls is increasing. Interventions aimed at improving one's quality and quantity of sleep may reduce one's risk of falling.
If you don't get enough sleep, you may become less steady on your feet and more likely to slip, which increases your risk of falling. However, poor sleep hygiene can also increase your risk of falls because it influences your bone turnover and muscle strength.
Too much and too little sleep have been shown to be risk factors for osteoporosis, and one study showed that getting too much sleep is the best indicator of developing osteoporosis. The study showed that men who had their sleep restricted as well as their circadian rhythm interrupted over 21 days experienced an uncoupling of bone turnover, meaning their bone formation decreased but their bone resorption did not change.
These findings that sleep disruptions may lead to osteoporosis helps explain why there is not a clear cause for half of the people who suffer from osteoporosis. It may also lead to an explanation as to why those who do not get enough sleep have a higher rate of fall-related fractures.
While sleep could have a direct impact on your bone health by raising your risk for suffering a fracture that is related to a fall, sleep also influences your health in other ways and is associated with unrelated health problems that could also increase your risk of fall, such as anxiety, alcoholism, depression, arthritis, diabetes, and stroke.
Both depression and isolation are associated with falls in seniors, and depression is also linked to sleep issues. Social isolation is also linked to a faster decline in motor skills in seniors, which may also influence fall risk.
Chronic conditions like arthritis, diabetes, and stroke have been linked with severe sleep problems as well as one's fall risk. By addressing any trouble you have with getting a proper night's sleep, you could be able to reduce your fall risk. To increase your sleep hygiene, try to go to bed at the same time every night and wake up at the same time every day. Make sure your room is just a bit chilly, which will allow your mind and body to fall asleep faster. Turn off any screens at least two hours before heading to bed, as this can disrupt your circadian rhythm. Also, turn off all the lights in your room and if you need a little bit of sound, get a white noise machine or something that will block out sounds from outside.
For more articles go to http://preferred-fitness.lifestyleezine.com